The Mares That Will Shape the Future...
So now we look forward to the future and the potential fillies and mares that will join the breeding program. One of the realities of owning and breeding horses is that from time to time you must part with one or two of your finest. Otherwise, you run the risk of having an excess number to start undersaddle each spring.
The mares listed below have all received First Premium or Premier Awards. As they have matured, their quality continues to shine through. Not only are they feminine in appearance, but they possess the good character, soundness and excellent movement that are the essential components of producing future champions for undersaddle competition. These young fillies and mares are also positive improvements over the generations that proceeded them. Therefore these mares are 'eligible' in our estimation for producing another generation of fine competition and breeding horses.
If you are interested in purchasing one of the fillies listed below, you will be selecting from the finest stock of our breeding program. If a mare is not listed below, it is not that we find her lacking in quality - merely that we have a full sibling that we feel is a better "fit" for our future plans in the breeding program at this time. If there is a specific mare that is listed and your dream equine partner, we are open to discussing a possible sale with an embryo harvesting provision.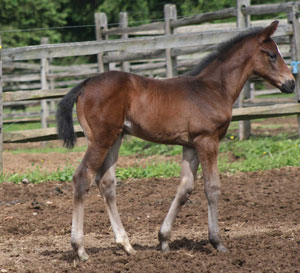 Dolce Elise WF
Photos courtesy of A & A Photography
Wakanda WF
Waterlily WF