The Filly
Stella is the last foal from her outstanding producer dam, Achtung Again WF – better known as Lily around the barn. We were delighted to watch her receive a Premier Award and the title of Site Champion at her foal inspection. Stella is a wonderful mover and quite a sweet filly to work around, just like her mother.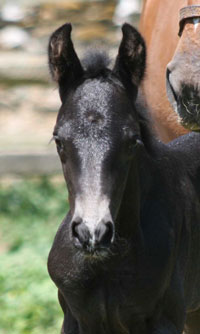 1 Day
Her movement is typical high quality that we have come to expect from the Dressage Royal x Again and Again combination. Stella is a breeders dream from the tip of her curvy ears and faint snip to the end of her lush, full tail. She has been a consistent hard worker through the levels and is preparing for her FEI debut in 2016. Her good work ethic, comfortable gaits and talent for flying changes make her delightful day in and day out.
A & A Photography
October 2007
Stella will be retained by Watermark Farm for competition and breeding purposes. Her outstanding quality is as obvious as the clear stamp of her sire on the tips of her ears!
September 2010
August 2015