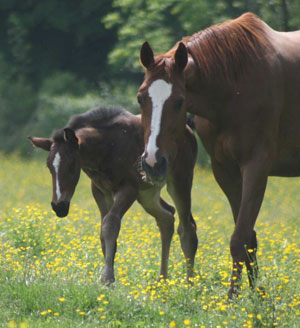 2009
The Mare
Savannah was born on a bright spring morning in May. Her personality was very similar to her dam's – she was out of Queen, therefore her title is "Princess"!
She competed in several breed shows as a three year old and earned a Sporthorse Breeding HOY award for her achievements. Like her siblings, she was an easy mare to start undersaddle. In spite of her tractable nature and fantastic movement, we opted to begin her breeding career at an early age. In 2003, she was bred to the "Sire of the Century", Weltmeyer. Her firstborn was Wyatt WF, who leaves a lasting impression whereever he travels. Even though we were thrilled with his quality, we did not rebreed her in 2004 – the plan was to return her to the competition ring as a show horse. That idea underwent a large change when we were reminded at Wyatt's foal inspection that you do not ride your best producing mares – they are for breeding another generation of superstars!
So Savannah rejoined our broodmare band and continuously outproduced herself until her untimely passing in 2009.
Savannah's genetics continue onward today in our riding and breeding program through her sons and daughters: Wyatt WF (2004), Don William WF (2007), Dream Girl WF (2008) and Dolce Elise WF (2009). Her second son, Windsor WF (2006) was sold to a professional rider and trainer. Her get are clearly stamped with her unique personality and charming good looks. Her sons are masculine types that are still classically beautiful and possess all the good qualities of a super riding horse - extremely good engagement of the hind quarters, loose elbows and excellent jumping technique. In the spring of 2012, her oldest Wyatt WF is currently advancing his upper level work - tempi changes, pirouettes, piaffe and passage. Lateral work is very easy for him and he is a joy to work the more difficult movements of the tests. Don William WF is also advancing his training as a rising 5 year old. He is working his single flying changes, lateral exercises and developing into one amazingly elastic and powerful horse! Dream Girl WF is beginning her undersaddle training and draws compliments wherever she goes on her outstanding gait mechanics! Dolce Elise WF is still growing as a rising 3 year old and still manages to outshine her red headed relatives - even with her dark coat! She is fantastic! Sadly, we have had no word on Windsor WF since the summer of his sale (2008). We will continue to look for him as he too was a lovely prospect.
| | | |
| --- | --- | --- |
| | | |
| 2000 | 2004 | 2007 |
| | | |
| 2007 | 2008 | 2008 |