The Filly
From the first moment, Daisy has impressed everyone around her with her obvious high quality and striking resemblance to her grand dam Able Spirit. We did not want to tempt Fate, so we went with a floral nickname for this bright filly...although more than one person has suggested that "LP" (Little Prissy) might have been more appropriate.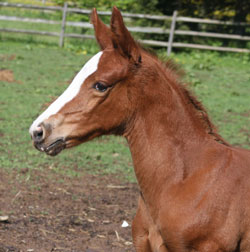 2 Weeks
With her illustrious ancestors, Daisy has a very bright future in the competition arena. As with other offspring from this mareline, Daisy possesses the IT factor in spades and is the first to investigate new factors in her environment. This is one classy filly!
July 2009
Daisy received a First Premium at her inspection with good marks in all areas. She is one of the nicest youngsters that we have bred thus far with all the power of Able Spirit combined with Dressage Royal's tractable nature and charm. Her pure, high quality gaits are only surpassed by her magnetic personality. Daisy draws attention no matter her surroundings. She is special and knows it!

Daisy loves to eat!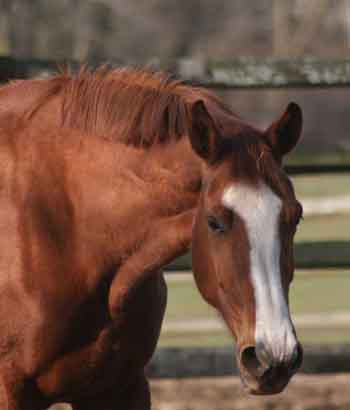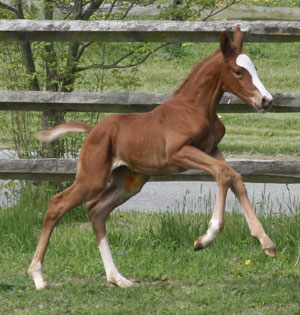 1 Day
2 Days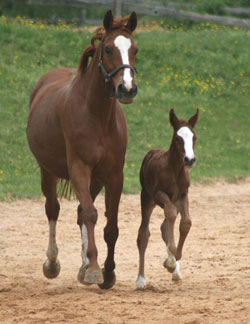 2 Days
August 2011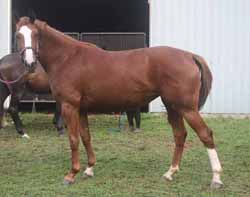 August 2011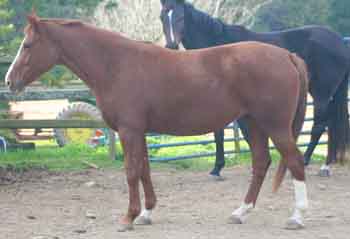 Field ready Fall 2012
Daisy has been a joy undersaddle since day #1. She is powerful, elastic, with a modern twist on the traditional Hanoverian frame and mechanics of movement. Daisy's gaits are very similar to her granddam Able Spirit - only with a bit more knee action and round jump in the canter. Her walk is comparable to the sexiest super models. We are quite excited to continue to develop her talents as an FEI competitor.
November 2015


We are offering 3 options for those interested in Daisy-
1. She is for sale. Five figures.
2. She can be syndicated.
3. Embryo transfers are available.
A new series of videos will be added shortly, please email Anne for more information and pricing for the options of being a part of the Dream Team.