Waldaire has proven to be an extremely prepotent sire, clearly stamping his offspring with his calm demeanor, size and excellent conformation with a strong loin connection. His sons and daughters are superb candidates for both riding and breeding future generations of sports horses. It is worth mentioning that the foals out of full Thoroughbred mares have significant improvement in bone, substance and suspension in their movement. Waldaire's sons and daughters have earned the title of Site Champion at their various Registry Inspections numerous times.
While we may be biased, the report from our breeders is equally encouraging! Their foals also have the same cooperative nature and their exterior qualities are clearly stamped by Waldaire. With several foals winning the coveted Inspection Site Champion title over the years – Waldaire can be proud of his offspring. Well Maid continues to impress her owner/breeder Hoppy Stearns just as With Eloquence delights owner/breeder Peg Lederer. Dori in CA is the proud owner of Walker who is daily delight to her with his steady temperament & good gaits. Wisteria was born in Texas in the spring of 2009 and has exceeded her breeder Charna's dreams with her 'old soul' approach to life.
As for his older offspring, the talented Wreinbeau (out of a TB mare) is enjoying a successful dressage career in Florida with his owner/breeder/rider/trainer Collette. They have qualified for the 2006 Region 3 Championships and we wish them the best of luck in the upcoming competition seasons. Wreinbeau and Collette are ranked 39th in the country in the Vintage Cup Training Level Awards for 2006. Bellagio (aka What A Biscuit, out of an Appendix QH) is enjoying great success with owner Jennifer in the Hunter/Jumpers in south Florida. Wuendaire (x Domingo/Marconi mare) placed second at Dressage At Devon in the hotly contested ISR/OLDna individual breed class in front of judge Lilo Fore with an overall 8.0 for movement. Daughter Walden (x Equueleus dam) has had a very successful career in the Hunter Jumper ring. She is an 'auto-pilot' ride according to her proud owner Lisa M. Whistfull (x Babamist/If Only mare) has had a most auspicious beginning to her undersaddle career as a three year old. She is rarely out of the top 2 in her undersaddle and over fences classes for owner/breeders Winter Paxson and Hoppy Stearns. Our Wilona WF went to her first Hunter Show and was crowned Champion Baby Green Hunter in a competitve group of horses! Wylie WF proved her mettle at the same competition with her rider declaring her to be the perfect equitation mount!
All of the foals presented to the AWR in 2005, 2006, 2007, 2008, 2009 and thus far in 2010 have received Premium or Premier gradings. In the July 2010 Inspection at Watermark Farm, it was the judges' opinion that this may well be Waldaire's finest group of offspring to date. His daughter Waldina WF ( x Sabrina WF) received straight 9's for all the sub categories and an Overall Score of 9.0 to win the title of Site Champion! Waveleigh WF was Site Reserve Champion with an Overall Score of 8.5, so we are quite pleased with our own foals!
Son Wizard WF arrived with great fanfare in 2006. After assisting with his delivery, I took a step back and then said, "Hello Wally!" as he is a carbon copy of his sire. Their likeness is undeniable to even the most casual observer. With such an auspicious beginning we are proud to say Wizard went on to be Reserve Champion Colt at the Fair Hill Breed Show as a foal and has had additional success in the breed show arena as he matured. Wizard was the Top Ranked Foal in North America in 2006. As with the other Waldaire youngsters we have raised thus far, Wizard has had a great beginning to his undersaddle career and delights all who meet him. In the fall of 2008, he gained his provisional breeding license from the AWR and will stand to a limited book in 2010. At his first undersaddle competition, the judges all praised Wizard for his similarities to Waldaire - they were impressed by both is good nature and movement...all good things as they both knew Waldaire in his prime!
With several foal crops now undersaddle here at Watermark Farm, we can confidently recommend Waldaire to mare owners who desire a more trainable mind and good character. Thus far, the youngsters are very pleasant to work around, easy to start and show great talent for multiple disciplines. They have consistantly inherited Waldaire's lovely canter, a strong sense of rhythm and balance and are very straightforward over fences.
A number of our clients with Wally babies are checking in regularily now that their youngsters are undersaddle. The reports are all excellent with extremely positive feedback on the highly trainable minds, excellent movement and good natures. Several of the youngsters are progressing well in their over fences training and there are some videos below of their talents. One of the most enjoyable facets of a Waldaire youngster is the easy flying changes - these youngsters are born with good changes!!
UPDATE 2015:
We are hoping for more scores/results/photographs (with credit)!

The Tri Athletes -
Welliengton (x ASB mare) is successfully competing at the Preliminary Level in Eventing in KY with his owner.
Worth The Wait (x Two Punch xx mare) is also competing successfully in Eventing for his owner under the careful tutelage of Nancy V. of MD. They have done quite well this season and are looking forward to a move up in 2016.
The Show Horses -
Wilona WF was Champion of the Devon Horse Show in the Ladies Sidesaddle with Susan Sisco in the irons! She was Champion several times over in the winter circuit in Aiken, SC as well as competing in the Halloween Event at Plantation Field to finish on her dressage score.
Wolfgang WF (x Sabrina WF)has been brought along by his teenage owner, Michaela and doing well in the AA rated competitions.
Wylie WF (x Amelia WF) has been to a few CCHSA shows and qualified for the Championship Show in November with Melissa G. in the irons.
Whodini WF (x Abracadabra WF) competed in the local CCHSA s

The Ballet Stars -
Wakanda WF (xAbracadabra WF) competed in the Intermediate B classes and is gearing up to debut in the SR Grand Prix in 2016.


Breeding Notes
Waldaire is permanently approved for breeding by the AWR as a Premier stallion – meaning that he is in the Top 2% of the equine population, as well as the ISR/OLDna and German Oldenburg Verband (GOV). If you are interested in registering your Waldaire foal with either the GOV or ISR, please just email us and we will make arrangements to renew his breeding license with the appropriate registry. Thank you for your understanding in these tough economic times. Offspring from KWPN Register A mares will receive Registry A papers. CSHA & CWBA mare owners can request he be activated for breeding approval as well.
Mare Matching
Waldaire is less than 25% Thoroughbred blood by pedigree and therefore extremely suitable for breeding to mares with a higher precentage of TB, Anglo-Arabian or other lighter types and bloodlines.
At Watermark Farm we have been very pleased with the offspring out of full TB mares as well as our half and 3/4 breds. That is not to say that Waldaire is unsuitable for mares with a higher concentration of 'pure' Hanoverian, Oldenburg, Westphalian or Holstein bloodlines, merely that he is proven to cross exceptionally well with high precentage TB mares. We can not recommend him to downsize in terms of height, especially from marelines that are known to throw size. In choosing from the Watermark Farm stallions for your mare, Waldaire is best coupled with a mare in need of a better loin connection, stronger topline, an improvement for the canter & walk and better, more tractable temperament.
The top three words most commonly used to describe Waldaire's offspring are: Substantial, Amiable, and Athletic.
Welliengton October 2013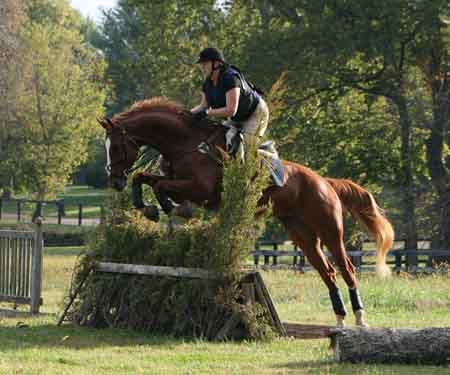 Welliengton June 2013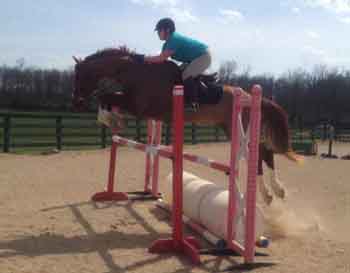 Wei WF 2006 Filly
Wynona PF 2008 Filly
Wall Street WF 2006 Gelding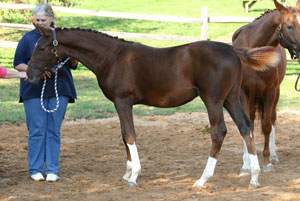 With Eloquence 2008 Filly
Walden 1999 GOV Mare
Wylie WF 2006 Filly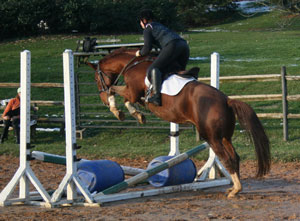 Wakanda WF 2005 Mare
Windrose WF 2010 Filly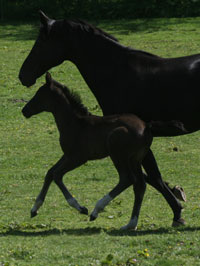 Windrose WF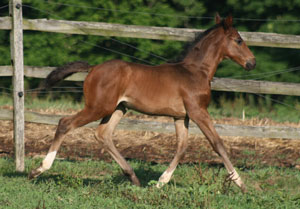 Waldina WF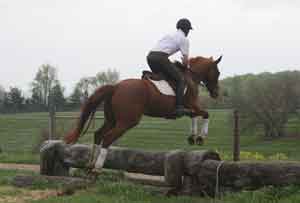 Whodini WF
Wall Street WF
Wallace WF August 2012
Whodini WF
Whodini WF
Whodini WF
Whodini WF
Wylie WF
Wylie WF
Wylie WF
Westerleigh WF
Wall Street WF
Whodini WF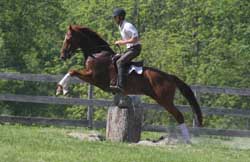 Whodini WF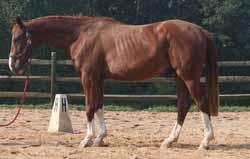 Wolfgang WF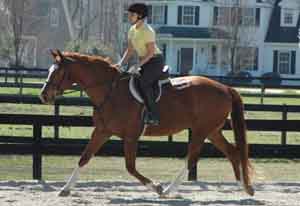 Wyncote WF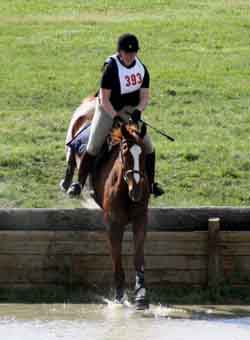 Welliengton
Photo Courtesy of Xpress Foto www.xpressfoto.com
Photo Courtesy of Xpress Foto www.xpressfoto.com
Waterlily WF (2007)
Wilson WF (2009)