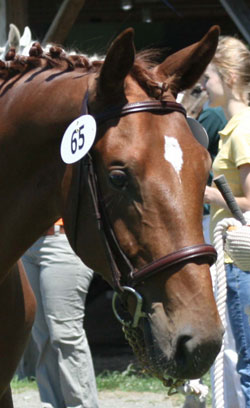 August 2007

The Stallion

Wizard WF is clearly stamped by his sire, Waldaire. Their color and markings are nearly identical. Wizard has inherited his damsire's outstanding gaits, Waldaire's highly cooperative nature and an extremely trainable mind. From his first moments outside of the womb we have been consistently impressed with his composure, focus and intelligence.

Wizard's topline is strong and smooth. His conformation is balanced and the proportions are correct. His jumping instinct is also correct with good scope and bascule. Wizard's movement holds great promise for the future – he knows when there is an audience and it is time to perform! From an early age, we have throughly enjoyed watching this young stallion do one time and two time changes around the pasture. His natural balance and consistent engagement of the quarters is unmatched.

At his foal inspection in October of 2006 Wizard was declared Site Champion. He was also awarded a Premier on that busy day. At the conclusion of the Inspection Tour, Wizard WF was the Top Scoring Foal in North America. He has competed in several breed shows with very good results and a qualification for the USDF Cosequin Finals in 2006.

While Wizard was at Sporthorse Training, Inc. being started by master horseman Roddy Strang, he earned the highest praise – he was not only a barn favorite, he had earned a special place in Roddy's heart as "a really good stallion." Some snapshots can be found below of their time together from the spring of 2009.

Wizard was licensed for breeding in the fall of 2008 by the AWR. He will stand at stud in 2010 to approved mares. Frozen semen is available for test breedings at a Private Treaty fee. Wizard again earned high praise for his excellent manners, high intelligence and quick learning abilities while being trained to the breeding phantom at SBS in the fall of 2009.

Over the winter of 2009-2010, Wizard began his full time undersaddle training with great joy. He thrives on the extra attention, learns quickly and is a pure delight to watch. The Australian 4* event rider, Ryan Wood kindly shared some his evenings with Wizard and praises his balance, movement, rideability and mind...all the key features in our breeding program.

At the end of February 2010, Wizard participated in the Ryan Wood Jumping Clinic here at Watermark Farm. He was calm and focused on his work with other horses in the arena and showed an exceptional aptitude for jumping...very reminiscent of his damsire, Again and Again's extraodinary use of the forelegs and shoulders over the fences. He also delighted observers with clean flying changes and a steady approach to the jumps. Wizard will continue his education over fences as well as in the dressage arena as we are pleased with his forward thinking attitude towards the fences as well as on the flat.

Over the summer of 2010, Wizard has continued to delight us with his high intelligence, easy mind and superb trainability. He is a stallion who maintains his focus on the rider without finding outside distractions.

Wizard progressed quickly and easily in his training - mastering everything for the Grand Prix by age 8. A pasture injury sidelined him for a bit, but we have restarted his undersaddle training and are hoping to get him back in the show ring soon.

Show Results


Wizard went to the August Fair Hill Dressage Breed Show and had a fantastic first undersaddle competition! He returned home with 2 Firsts and 1 Second! We are delighted with his good nature and impeccable manners as he was flawless throughout the day! His gaits and temperament were complimented by both of the judges.

At his first dressage show in October 2010, Wizard competed in the USDF Four Year Old Test with high praise for his basic gaits and cooperative nature. From a rider's perspective - it is worth mentioning that he is a very focused and obedient young stallion with exemplary manners. The uphill quality of his canter and solid foundation were highlights of the day. We will continue to advance his training during the latter part of 2010 and currently plan to campaign him throughout the 2011 season in both the open and FEI Young Horse classes.

Wizard competed lightly in 2011 (due to rider injury) and continued to impress us all with his outstanding quality. His movement has solidified into that of an upper level FEI type, rather than the big flashy Young Horse fashion. His flying changes are solidly confirmed and he is practicing counting changes through ones as a part of his daily training in the fall and winter of 2011-12. Wizard participated in a clinic with Catherine Haddad Staller and she had very high praise for him and encouraged the pursuit of FEI competition rather than a concerted effort to go after a National Young Horse Title. So the plan is onward and upward beyond Third Level!

Wizard has had a very wonderful winter of training. His piaffe and passage are developing while his flying changes continue to delight us all. He went to the Dunmovin Farm schooling show at 4th Level and received a 66% in February 2013. All of which points to an extremely bright future in the upper levels.

Breeding Notes


Wizard's mares have all settled quickly and we are anxiously awaiting his second crop of foals.

As Wizard is a young stallion, we are eager to see what type of offspring he will produce from a variety of mare types. While he is very similar in appearance to his sire, Waldaire, his movement is much more reminiscent of Again and Again as well as his sire Abundance. Wizard is very supple and elegant with smooth, powerful gaits & excellent bascule over fences. If you are considering Waldaire but have concerns that he might throw too large a horse from your mare (i.e. her pedigree carries height), please consider this smaller, lighter young stallion son.

Wizard is approved for breeding by the American Warmblood Registry (AWR).

Mare Matching
Wizard is just over 50% TB blood by pedigree. He would be an excellent choice for mare owners not wanting to decrease the reaction time of their horse but to increase the elasticity, power and engagement of the hindquarters along with strengthening the topline. At this time, we can not be certain that he will add or subtract to a mare's height, however, Wizard is quite a bit shorter than his sire Waldaire.
August 2010
August 2010 images courtesty of A & A Photography.
February 2013