Wizard's first foal arrived in 2011 and has been a delight from our first meeting that brisk Easter morning. She is out of our Wallstreet Kid daughter, Wallstreet Rose WF. Wendolyn WF earned an overall score of '8', the Site Reserve Champion title and a Premier grading at her foal inspection. She is a highly intelligent filly with incredible self carriage, sweet nature and superb balance. Her conformation is very correct, her movement has excellent suspension and she is very feminine in her appearance.
Wizard was bred to a variety of mares in 201 and their arrival is only a few weeks away. Twin Lights Farm will lead the foal parade for 2012 with their lovely TB mare In A Dream. Dreamer is graded a First Premium with the AWR and we are all very excited to see what this cross brings out from both parents.
As Wizard is just over 50% TB by blood, he is an excellent choice for mare owners looking to increase the strength in the loin connection, improve the canter and jump with good suspension while maintaining a a modern appearance in their breeding program.
Breeding Notes
Wizard WF is approved by the AWR. As his competitive career advances, we will approach other registries by request for approval.
Mare Matching
Thus far in his breeding career Wizard has been utilized for mares that are at least 50% TB blood. Therefore, we can confidently recommend him for both full and half bred mares.
The three most commonly used words to describe Wizard's offspring are: Powerful, Self Confident, Attractive.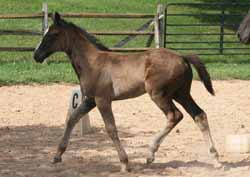 Wendolyn WF
1 Month
Wendolyn WF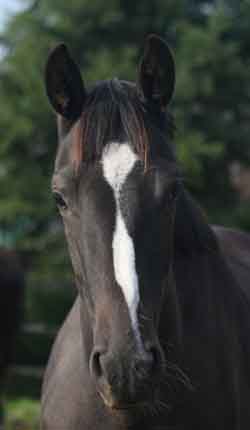 October 2012