2006
The Mare
Gretta joined the broodmare herd in 2004. She was bred in South Carolina and joined our herd after a family illness forced them to part with their beloved homebred mare.
At her time of purchase, Gretta was schooling First Level and jumping small courses. Her grounded nature and good gaits made her a delightful acquisition for the breeding program. As one would expect with her illustrious Hanoverian bloodlines (Warkant, Eiger I, Perfeckt I, Grande) Gretta's gaits are very scopey, cover the ground easily and she has a very free shoulder with good engagement of the hindquarters. Her jumping form is more than sufficient with plenty of power off the ground and tidy form over the fences. In the spring of 2012, we were contacted on Facebook by the KNZ Breeders group as Flashpoint xx (her dam), was an export from South Africa and from a prestigious damline! It turns out that Flashpoint's mareline is quite prolific in producing 1.50m JUMPERS!
Gretta continues to impress us with her typey and elegant offspring. In 2007, she produced an excellent colt by Waldaire in Wall Street WF. Like his dam, "Hansel" is very grounded, easy to work around and very talented. Her 2009 black colt by Waldaire did not survive delivery. We were heartbroken as he was a lovely fellow with long limbs, tasteful white markings and his dam's beautiful face. Gretta produced and outstanding filly by Waldaire in April 2010 and we have named her Windrose WF. For her 2011 foal, we have chosen our junior stallion, Wizard WF as she has proven to cross so very well with his sire Waldaire and we have always dreamed of crossing her with Again and Again (Wizard's damsire). Wendolyn WF arrived on Easter morning and is fantastic! She earned a Premier grading at her foal inspection and continues to impress us with her high intelligence, balanced movement and self carriage.
We left Gretta open in 2011 but she is available For Sale, Breeding Lease or ET in 2012. We recommend Wizard WF or Dressage Royal for her future foal. Please contact Anne for more information.
We have footage of Gretta from her time of purchase and will upload it to You Tube shortly.
June 2010
April 2011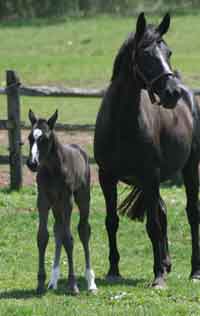 Flashpoint xx (her dam)