The Horse
If you have ever been around a top A hunter, then you know when you are in the presence of a star. That is exactly what it is like when standing next to Showtime WF. He oozes class, quality breeding and outstanding hunter movement – all topped off by the intangible "It Factor."
Chester's gaits are smooth and balanced. He has plenty of scope and power over fences and has had a very successful career thus far for his new owner. Like his dam, Able Spirit, he calmly surveys his surroundings, gauges the size of the crowd and performs accordingly. His sire, South American Way has produced several foals with the desired float and smooth gaits that make riding them a dream.
His personality is sweet and tractable. He enjoys going to new venues and is relaxed out in the open, either alone or with company. Chester settles in quickly at new facilities and enjoys his over fences training and competition.
As of the winter of 2010-2011, we have reports that Chester continues to shine as an A Show Hunter at Persimmon Tree Farm. He has been successful at all of his competitions with numerous championships to his credit. His tractable temperament has allowed him to go from being an Adult ride to that of the family's juniors. We are quite proud of Chester and will keep everyone updated on his show results as they are received here at Watermark Farm.
His 2006 filly inherited his correct conformation, balanced gaits and excellent hunter movement. In early 2011, we heard from Selebrity's owner and she is well started undersaddle. Selebrity was easy to start, uncomplicated and just an 'old soul' as a riding horse. If we receive any photographs, we will be sure to add them.
There is an ample supply of Showtime's frozen semen available for purchase.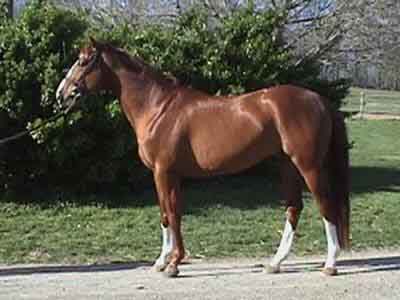 "Chester" age 4