The Filly
(Waldaire x Amelia WF by Again and Again)
Pedigree
Mature Height 17.2 Hands
Discipline: Dressage, Eventing, Jumper, Breeding
Temperament suitable for an experienced rider who is comfortable with a light mouth and big movement.
SOLD! Congratulations to BM!!
From the tips of her loppy ears to the bottoms of her feet, Rosie is one special filly! Her movement is exceptional while her outgoing personality is a source of never ending entertainment. She is a bit of a busy body and always carefully observing from the sidelines – never too far away to miss something, yet not so close as to be directly involved in the mischief!
1 Day
As with our other foals, Rosie was bred with the specific plan of breeding another Grand Prix competitor. With her obvious engagement of the hindquarters and powerful gaits, the future is very bright for this big filly.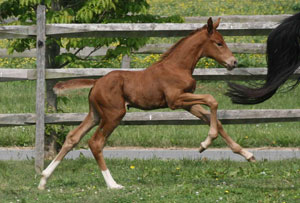 2 Days
August 2011
March 2013