The Colt
Derek was his dam's first Dressage Royal foal and continued the high standard that we have come to expect from his sire crossed with an Again and Again daughter. Like his brothers Wizard WF and Drummond WF, McDreamy was awarded a Premier at his foal inspection and he earned high praise for his movement with an overall score of 8.5!
July 2008
This young colt has been sweet tempered and very level headed with great respect for those around him - be they humans or other equines - from Day 1.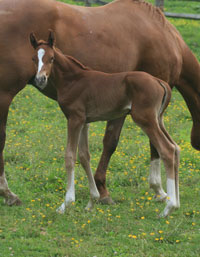 1 Day
McDreamy was very level headed and easy to start undersaddle. He is a daily joy to train - very easy to collect, good flexibility and elasticity. We are carefully nurturing his talents and hope have his middle level debut in the Winter of 2015 and FEI in the Spring of 2016.
Spring 2011
November 2014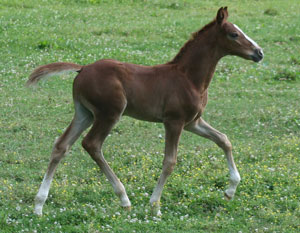 3 Weeks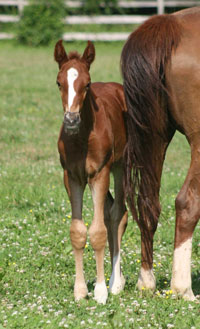 4 Weeks
McDreamy is for sale at this time. He would be best suited to an AA or Professional who is comfortable with the task of nurturing an FEI talent. His athleticism and tractable nature are well suited to that of a competitive FEI home.
November 2015
Please contact Anne to schedule an appointment to see him.