The Mare
Addie is a love. More specifically, she is the love of her proud owner's life. They are making good progress up the dressage training scale together and having a bit of fun along the way! She was purchased as a 4 year old and has remained here in our training program – much to our delight as it is always wonderful to help an owner learn with her horse!
5 Weeks
Addie was well received at her foal inspection and earned a First Premium Award. She is going through her Mare Performance Test in the fall of 2009. Her gaits are ground covering, yet soft and easy to sit for the rider. Her balance and poise is unmatched – she is an old soul in a young body, the perfect horse for ambitious amateur rider.
2 Years
August 2012
1 Day
Addie went to Dressage At Devon in 2008 and had a very successful show. She returned home with a ribbon in almost every class that she entered and placed 6th in the Cosequin USDF Breeder's Championship Mares Class. 2009 has been filled with many adventures for both Addie and her owner. Keep an eye out for them in the show ring!
A & A Photography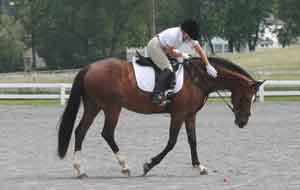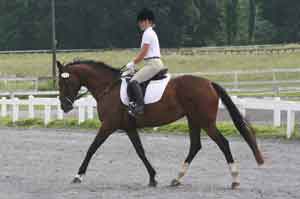 Show Photos are from May 2011 with Karin riding!
Congratulations on your win & 75.63%!!!!!