Clinic Information
Helmets are required. Gloves are strongly recommended.
First Demo Horse will start at 9:00 AM on Saturday February 20th.
The focus of this clinic is to address the body language to facilitate better equitation, body control and more effective communication between horse and rider. Basic lateral work, rein back, suppling and gymnastic exercises will also be included. More advanced excercises and techniques will be added for the more advanced students and horses as per their proficency and confidence allows.
To sign up for the next available clinic, please download the Waiver and send your name and horse info with a 2 hour time window to Ellie.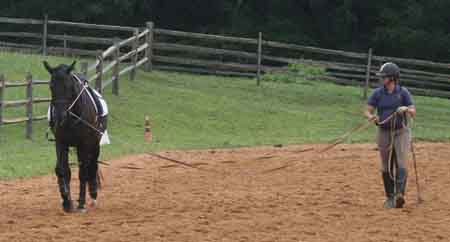 Fees and General Clinic Information:
$50 per horse/rider for 45 minutes
Auditors - $10
$20 to use a Watermark Farm horse
Rider Name: ______
Horse: _________
Preferred Time: ___________
TIMES:
???? Additional Questions ????
All outside horses will need to bring a negative Coggins with them or email a copy to Ellie in advance.

Parking will be on the street for trailers if it is muddy/raining. Auditors are welcome (please bring a chair). Restroom on premises.
Final times will be posted here on the Wednesday night prior to the clinic date and on FB.
- Demo starts at 9 AM

- Auditors - please bring a chair!