Clinic Information
Helmets are required. Gloves are strongly recommended.
Second Clinic Session Saturday February 23rd. Snowdate Sunday February 24th.
The focus of this clinic is to discuss the techniques and execution of the Flying Change. A 'how-to' session will be included at the start of the day with lecture being given by Anne. Basic lateral work, suppling and gymnastic exercises will be included as part of the discussion. Various methods will be discussed and shown throughout the day.
This clinic is the culmination of the weeks leading up to this session, so it may behoove particpants to sign up for the prior sessions. More advanced excercises and techniques will be added for the more advanced students and horses as their proficiency and confidence allows.
If demand warrants, we will repeat this schedule again in February 2013 to allow for additional participants and the sharing of knowledge before the start of the show season. These clinics build on the techniques discussed in the previous week's session, so it may be of value to attend all three.
To sign up for the next available clinic, please download the Waiver and Clinic Form , fill them out and send them to Ellie.
Some things worth mentioning -
We recommend riders audit the first 2 clinics (at least, riding would be more beneficial) if they are interested in working on their changes as there are many subtle training tools that go into building a clean single change and it is too much to cover in a single 45 minute session for most horses.

We are offering a $10 discount for each clinic session to any/all TB's (OTTB or just full xx blood) for this series. Anne has a solid foundation in transitioning the TB from racing horse to Grand Prix, so this an opportunity to help encourage better dressage scores for our equine friends that were bred for more speed than their warmblood buddies.

In case of inclement (seasonal) weather - we will push the clinics back 1 week. However, that being said - the Series must wrap by the end of the first weekend in March, so check back often for updates!

For those interested in using a WF horse for the clinics - we are happy to provide a trained FEI horse for you to learn on, however, they are not machines and can take great exception to a strange rider at times. It would be beneficial to your learning experience to rider them a few times prior to the clinic(s). Contact Anne to discuss which horse suits your riding style and schedule best.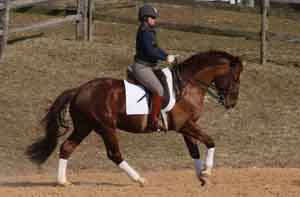 Fees and General Clinic Information:
$75 per horse/rider TB's - $65 - save $10!
Auditors - $10

Flying Change Seminar Times 2/23/13
11:30 Demo
12:30 Lauren
1:15 Fiona
2:00 Pat
2:45 Q & A
Due to some iffy weather in the forecast, we are keeping the schedule short with a lengthy demonstration to start the day. During the Q & A at the end, another horse may be brought out to do a second demo - but that will depend on the level of interest and weather.
If we get significant snowfall overnight, the clinic will be held at the same time on Sunday. Any changes, postponement or alterations to the schedule will be posted here on the blog, FB, the Calendar page on our website and on the Event Page of the Chronicle of the Horse.
Any questions or conflicts, please email Ellie@watermark-farm.net
???? Additional Questions ????
All outside horses will need to bring a negative Coggins with them or email a copy to Ellie in advance.

Parking will be on the street for trailers.
Auditors are welcome (please bring a chair). Restroom on premises.
Auditors vehicles need to park near the shed opposite the green barn or on the edge of the road on the grass.
Final times will be posted here as well on the Wednesday night prior to the clinic date.
- Demo/lecture starts at 9:45 AM

- Auditors - please bring a chair!